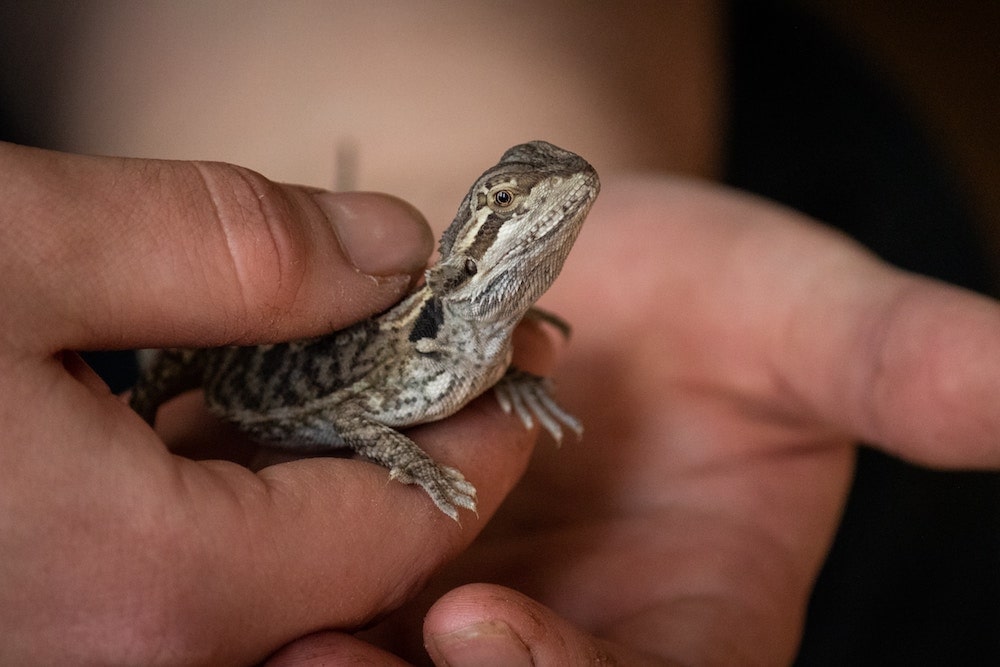 How to Take Care of Your Lizard
by Janine DeVault - 7/8/19
While lizards make fun, fascinating pets, caring for one is nothing like caring for a cat or a dog. If you're looking to add a reptilian friend to your family, it's important to learn how to take care of a lizard in order to offer it a safe home. With over 4,500 species of lizards in the world, there are a lot of nuances to caring for each one. There may be a lot to learn, but that's just part of the adventure! Here are some general guidelines to help you care for your pet lizard.
Your Lizard's Ideal Habitat
One of the most important aspects of how to take care of a lizard is designing the appropriate habitat for your pet. It's important to research your lizard's environmental needs before bringing him home, as the requirements will vary depending on the type of lizard your adopt. As you research, there are a few key features to keep in mind. You will need to choose an enclosure that provides the appropriate levels of light, heat and humidity for your species of lizard.
Some lizards prefer a habitat that is more desert-like, while others require an extremely humid environment. The majority of lizards enjoy basking in the sun, so be sure to choose an enclosure that includes or facilitates the installation of heat lamps that suit your lizard's needs.
You should also choose an enclosure that is large enough for your lizard to live comfortably. Remember, some species, such as iguanas, may grow significantly. If you're not sure about your breed's propensity to grow, spend some time researching their average sizes. It's OK to opt for a small enclosure in the beginning, but you may need to size up down the road.
Once you purchase an enclosure for your lizard, it's time to begin transforming it into a homey space where he will feel comfortable and safe. Research your breed's preferences when it comes to foliage and water. You can adorn your lizard's enclosure with plants and other natural elements that will make him feel at home. Don't forget to include some stones or logs for him to sunbathe on or hide behind.
What to Feed Your Lizard
There are many species of lizards and each has different dietary requirements, but generally speaking, lizards eat an omnivorous diet. This means your lizard will be healthiest when eating a mix of plants and insects or rodents, depending on his breed.
Many lizards fill the carnivorous side of their diet with crickets, worms or certain species of roaches. Larger, carnivorous lizards, such as monitor lizards, will do best eating rodents — specifically, mice. It's important to remember that lizards often prefer eating the meat portion of their diet alive. You should be able to find any of these insects or rodents for sale in your local pet store or online.
When it comes to eating plants, lizards enjoy a mixture of leafy greens and fruit, which you can purchase at your local grocery store. Generally speaking, romaine lettuce, yellow squash, blueberries and collard greens offer nutritional value to lizards. However, some fruits and vegetables can be harmful to lizards, so be sure to research which ones are ideal for your pet before you feed him.
Quality Time With Your Lizard
When learning how to take care of a lizard, it's important not to overlook how to handle him. While lizards don't typically enjoy being handled, it's still important to know how to do so safely. After all, you will need to safely remove your lizard from his enclosure periodically to clean it or to take him to the veterinarian. Once again, the best practices for handling lizards will vary by species, but the following is a general idea of how to go about it.
When picking up your lizard, try to scoop him into your hand and gently clasp his head between your thumb and forefinger. This will keep him secure and sheltered. For larger lizards, you will likely need to use two hands. Hold your lizard's hind legs back toward his tail with one hand, to prevent him from scratching you and grasp his body under his front legs with the other hand.
Small lizards, in particular, are very fragile, so it's best to avoid handling them unless absolutely necessary. They are vulnerable to losing their tails or being squeezed too tightly, which may cause internal damage. If you have a small lizard, make sure you handle him very gently and do not let anyone else hold him unless they are experienced with handling small reptiles.
Remember, being held is stressful for lizards, as they do not see their human caretakers as friends the way a cat or dog would. Instead, they usually feel threatened in the hands of such a large being and may even bite you. Don't take it personally if this happens; remember that they're following their instincts.
If your lizard is uncomfortable being held, it's best to avoid doing so, if it all possible. It's natural that you want to pick up your pet and show him off but remember, it's best to put his comfort first.
Owning a lizard may require more research and attention to detail than owning a different type of pet, but it's certainly a rewarding experience. Learning the ins and outs of how to take care of a lizard is just part of the fun of owning this type of pet!
Janine DeVault is a pet care writer, animal rescue advocate and former celebrity dog walker. She lives in Mexico with her three rescue pets: Maia, Fozzy and Kesi.
References