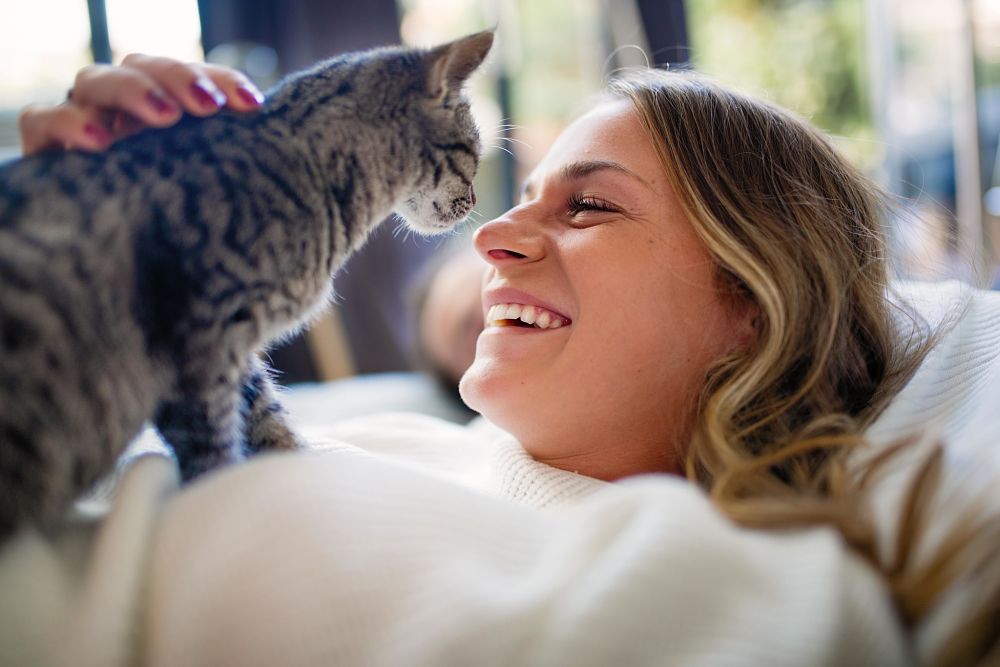 8 Best Gifts for Cat Lovers
by Jane Meggitt - 8/26/19
What to get the cat lover in your life? Buying a present for a cat — such as a toy or a comfy bed — is fine, but the best gifts for cat lovers target the owner rather than the feline. Look for amusing and practical cat-themed gifts your feline aficionado can proudly show off.
1. Cat Phone Case
It's likely your cat-loving friend has hundreds — if not more — photos of their favorite kitties on the cellphone. They will also appreciate a feline-themed phone case to hold their smartphone. The Valfre 3D Black Cat iPhone case available on Amazon really stands out, but a smaller and less expensive version is another good choice.
2. Cat-Themed Jewelry
Give your friend a piece of cat-themed jewelry — such as a necklace, a bracelet or feline earrings. You can spend a little money on whimsical accessories or purchase expensive gold or silver pieces with gemstones.
3. Cat Headphones
Everyone needs a spare set of headphones, but it's likely the cat headphones from Urban Outfitters will become a cat lover's primary pair. That's because these headphones feature cat ears. How could you possibly improve on them?
4. Custom Pet Portrait
If you really want to make your friend happy, one of the best gifts for cat lovers is a custom portrait of their pet. The downside is that it's hard to surprise someone with such a gift, because you need photos of the cat for the artist to create the painting. If you can get some good pictures of the cat without your friend knowing the purpose, you're virtually guaranteed to make your friend's day when they receive the portrait.
5. Cat Slippers
Everyone needs slippers to keep their feet comfortable, and nothing beats a pair of cozy slippers with cats on them. Nordstrom's offers natural wool slippers with cat appliques attached. These expertly crafted and adorable slippers are built to last a long time.
6. Kitty Egg Mold
Break the mold of cat-oriented gifts with the Kitty Egg Mold, available from Amazon. Breakfast will never look the same. With the Kitty Egg Mold, the egg yolks become eyes and there's a little cut-out piece for the nose and mouth. There are also ears – don't forget the ears. Breakfast is so cute, you may want to stare at it rather than eat it.
7. The Cat's Pajamas
In the 1920s, cat phrases ruled. The "cat's meow" referred to something outstanding, while the "cat's pajamas" meant unparalleled. Nearly a century later, buy your cat-loving friends pajamas with cats on them and there's still no better theme. Odds are your friend shares a bed with felines. She can wear her cat's pajamas while sleeping with her furry friends.
8. Feline Wine Stopper
Wine and cats are perfect together — and possibly necessary. For friends who enjoy a bit of the grape as much as they love their cats, a feline wine stopper makes an ideal gift. If your cat could stick his head into a bottle of wine, he probably would, and that's exactly what the head of the animal on this wine stopper does. Pull the stopper out of the bottle by the tail.
We hope these ideas are helpful, and in many cases there is a gift in it for the cat as well. Like the box that your cat lovers' new slipper arrived in.
Jane Meggitt's work has appeared in dozens of publications, including USA Today, The Alternative Daily, nj.com, The Happy Cat Site and The Nest Pets. She is a graduate of New York University.
References