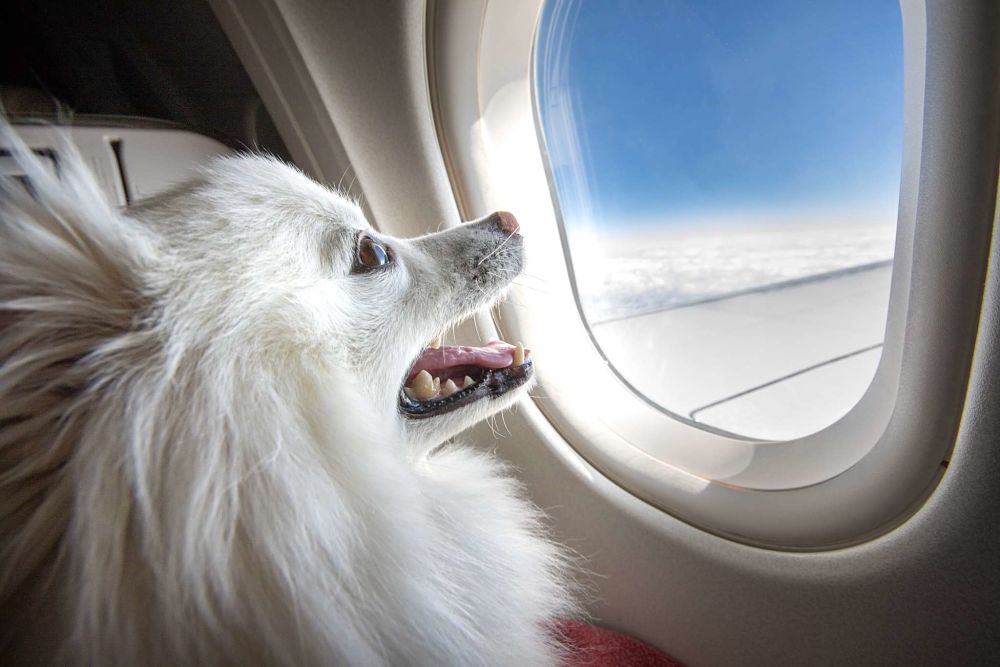 The Complete Guide to Flying With a Dog
by Janine DeVault - 9/6/19
With the constant rise in pet-friendly resorts and adventure experiences, it's no longer out of the question to travel with your dog. In fact, for short domestic trips it may even be preferable. After all, it's a bummer to leave your best friend behind when you're on vacation! Without question, the prospect of flying with a dog can be intimidating. Flying is tedious enough as it is without the added stress of a living creature to manage. But it's probably not as bad as you think. Armed with these key dog travel tips, you're sure to find it a breeze.
(Double) Check Airline Requirements
Early in your travel planning process, you'll need to research the airline's requirements for pet travel. Depending on your dog's size he will travel with you in the cabin or in the cargo hold of the plane. Either scenario likely requires a special carrier that complies with the airline's specifications. Unfortunately, these are not standard across all airlines, meaning that careful research is necessary. Additionally, some airlines have restrictions that forbid certain breeds to travel or may not permit them to travel at certain times of the year. It's wise to contact the airline and speak to a reservation's agent to ensure that your dog will be free to travel. Ask what information is required to ensure your dog will be allowed on board. Get specific measurements for accepted carrier sizes, and ask about any additional fees related to flying with a dog.
Check in With Your Vet
Some airlines may require a certificate of health from your dog's veterinarian before they will allow you to board the plane. Even if this isn't the case, before flying with a dog it's wise to get a checkup. Inform your veterinarian of your travel plans and ask about any recommendations to make the journey easier on your dog. If your dog happens to be the anxious sort, your veterinarian may be able to prescribe a mild tranquilizer to keep her calm throughout the trip.
Carry Medical Records
You never know when an emergency may arise, so it's wise to ensure you have easy access to your pet's medical records. Print them off and carry them in a folder or upload digital copies to your Google Drive. This way, you can easily consult your pup's records if you need them.
Make Sure Your Dog Has ID
Your pet should always carry up-to-date identification tags on his collar, but this is especially important when traveling. If your pet goes missing, you'll have a much better chance of locating her if your contact information is attached to her body.
Create a Safe Space
There's no question that travel is stressful for dogs. They are exposed to all kinds of new environments, sights, smells and people. Help make the trip easier on your pup by creating a safe space for him. Line his crate with a blanket or towel from home. The familiar scent will comfort him. If he has a favorite toy, place it inside his carrier.
Plan for Potty Breaks
Any time you travel, whether you're flying with your dog or taking a road trip, it's important to create opportunities for potty breaks. Keep in mind that your pup may urinate more than usual when she's stressed, so don't force her to hold it for long periods of time.
Carry Essentials
Any time you're far from home, it's important to stock up on any essentials you will need. While you may be able to purchase your pup's favorite food and treats at your destination, it's not worth risking it. Make sure to pack at least a couple of meals worth of his favorite food and carry plenty of water. This way, if you get stuck in transit Fido won't have to suffer.
Create a Dog-Friendly Itinerary
As you plan your itinerary, make sure to take your pup's needs into account. Will he be able to accompany you on all of your desired activities? If not, what will he do while you're gone? You may be able to leave him in the hotel for short periods of time, but ask yourself whether that's in his best interest.
If your itinerary requires your pup be left alone for hours at a time, consider sending him to a local doggy daycare. That way he'll have the opportunity to burn off some energy, and you'll both be calm and content when you reunite at the end of the day.
Traveling with your dog is definitely a rewarding experience but it does come with its own set of challenges. But it's nothing that can't be executed without a little careful planning. Will you be taking your dog on your next vacation?
Janine DeVault is a pet writer, animal rescue advocate and former celebrity dog walker. She lives in Mexico with her three rescue pets, Maia, Fozzy, and Kesi.
References